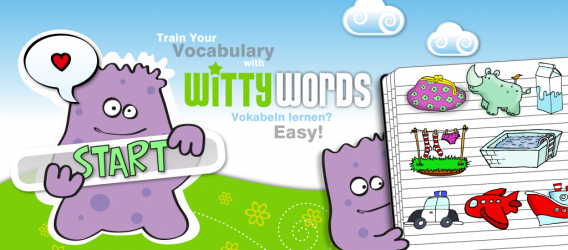 Studying new vocabulary made absolutely easy!
Cramming new vocabulary? – Child's play for all, and lots of fun to boot!
On your marks, ready, go – here comes "Witty Words".
Witty Words is the new family friendly App that helps you memorize fresh vocabulary, introducing Theo, the coolest Monster-Coach ever, always at the ready to assist. All the pics – lovingly sketched by artist and designer Michaela von Aichberger – will help you memorize the new words playfully, and you will laugh all the way from the first to the last word in your favorite foreign language. Especially kids will love the Monster Theo!
You can chose between English, German, Spanish, Catalan, French, Russian, Polish, and Chinese.*
You're not sure how to pronounce this word or that? No sweat – because now you have Theo and his cuddly monsters from Witty Words at your side. Did you ever guess that learning could be so much fun? That's why Theo will help you to pronounce and enunciate your new vocabulary correctly (applies for English, German, Spanish, French).
"Proof positive" that you know your stuff is when the "ok" appears, and your success shows in your Witty Words-highscore ranking.
And if you like studying together with friends it will even be more fun to challenge them in a vocabulary contest.
The Witty Words App will be the most fun vocabulary trainer app kids have ever played with.
*The basic version is German/English, click to buy up to six other languages.
Presently, the übercool vocabulary training App is available for Android smartphones, only. An iPhone App will follow soon.